I am writing an ebook that will be available very soon. So I thought I would tease you with some of it …
I'm interested in your response, which I may include in the book (If that's alright with you). For the next few posts I'll share more of it with you…
INTRODUCTION
Once I was contacted by someone online who wrote in a message, "I was referred to you to see if you could help me sell my books online".
My reaction (which I didn't reply and is a discussion in this book) was – why would I be interested in your books? Who cares?
This attitude seems to be the flavor of the day on the internet nowadays and if you can't address it, you may as well find another way to promote your business.
Hundreds of people run to the internet daily with stars in their eyes thinking they're going to strike it rich – when sadly I have to "pop" the balloon here, and say it's just not so.
There's a mindset that has to be cultivated, explored, and implemented to even begin to compete, yes compete, with all the other millions of websites clamoring for the "eyeballs" of visitors.
Unless you're a celebrity, or a well-known company like Coke, you're just another human being trying to stand-out in a congested pool of websites as well as stand-out in providing valuable content for readers.
There is good news though. You do have one extraordinary thing that no-one else has. Are you ready for it? Here it is: YOU!
That's right, and this is where the challenge comes in because you have to think, go deep within, to cultivate, explore, and implement what makes you so different from millions of other people online.
Most likely, people who come online just think slapping-up a website is all you need to do. Wrong.
If you take my suggestions seriously, you can enjoy the rewards of "standing out from the crowd". But it takes time and effort on your part…
I've been online since 1998 and have pretty much "grown-up" with the internet. I created my first website that same year and have morphed myself with the times since then. But it's led me to the philosophy that "self-branding" is the best ticket to stardom on the internet mixed with a healthy dose of social media.
I'm a lovely, seasoned woman of 62 who has learned how to reinvent herself many times over through the years. It's just the nature of our world now with no job security at all.  The Internet is a vehicle to create a business, or a new career without boundaries and it's global. The possibilities are limitless.
However, for some reason (and I see this all the time) many who are around 50 plus years old are stuck, perplexed, confused, frustrated, and just don't think they have anything of value to share on the internet.
So, so, far from the truth.
The mental "block" is this: we were taught it was wrong to praise ourselves, to appreciate, and celebrate our talents, interests, and successes. We heard more "don'ts" as children than "do's" so sharing what we know and being comfortable with it is a challenge for many.
YOU are valuable! You have knowledge! YOU have life experience that trumps the younger generations of today…
You CAN be successful on the Internet if you honor your life experience, interests, and passions (I'll write more about this later in the book).
That said, I hope the following information from my personal experience and perspective will give you the "juice" you need to reinvent YOU, separate yourself from the sea of websites, stand-out, and attract those who are genuinely interested in what you have to say, share, and offer others as you age.
If you liked this, and when completed you'd like a free copy, comment below!
Here's another ebook I've written on creating Facebook communities, find it here
FREE LIVE TRAINING THIS WED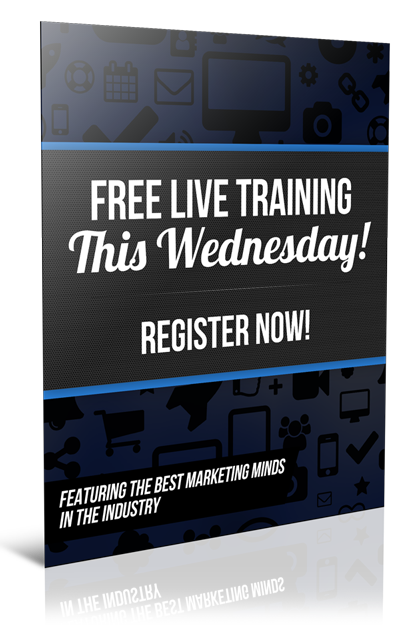 LIVE webinar with a 6-Figure Earner this Wednesday! Get strategies to help YOU get more leads & Profit in YOUR Business